Design your header here as a part of your layout. You can also download header templates from the Visual Composer Hub.
The Virtual Museum Transnational Network
is hard at work on various deliverables for this European Network of Excellence project. We're putting putting our years-long collaboration into practice as we move into the final months of this stage of the Network's projects. We're creating virtual content, setting systems in place, and writing several working papers on implementation for virtual museum technology and encouraging innovation in heritage centres around the world. Most exciting, though, is that
the Keys to Rome project
is beginning to come together in concrete form. This project brings together museums in four physical locations: Rome, Amsterdam, Sarajevo, and Alexandria. Each location has selected several featured artifacts, which can be explored on-site through enhanced visualisation and virtual technology. However, these experiences are also linked through an overarching Keys to Rome virtual experience, which provides overarching context and a historical narrative to invite visitors into a digital experience of Ancient Rome. While the physical exhibition spaces are gearing up to host their part of Keys to Rome, at Noho we are busy building the exhibition website. This will provide information and encourage people to visit the exhibition spaces. However, it will also invite those who cannot physically visit the museums to enjoy the the mobile app and virtual museum space housing the historical narrative and interactive content that makes Keys to Rome such a dynamic project.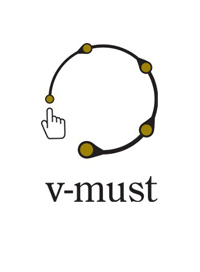 V-MusT was conceived to push the capabilities and availability of "new museum" technology. Working with partners from across Europe–from academic, heritage professional, and technology backgrounds–we are creating a unique and exciting example the use of new media in museums. Keys to Rome links physical museum spaces with virtual content and a mobile, interactive platform. It offers the best of all worlds: the accessibility and versatility of virtual museum space and the collaboration and advancement of physical heritage centre spaces. This summer we'll be spending considerable time putting together the videos and virtual content for Keys to Rome, as well as working on other V-MusT projects. The adventures continue!
Design your footer here as a part of your layout. You can also download footer templates from the Visual Composer Hub.