Design your header here as a part of your layout. You can also download header templates from the Visual Composer Hub.
We are off to Shanghai today, or possibly tomorrow, depending on volcanos. We must have angered the Gods in some way. We have been commissioned by Martello Media to create and install content for the Irish Pavillion in the
World Expo
in Shanghai. It's a great opportunity for us and we will be updating this Blog with bits and pieces, while we are there. We have created some great looking content that will be spread across 3 main installations within the Pavilion. The Atlantic Light corridor features a 6 projector-long looping video projection on the floor. The projection mixes CG elements such as flowing grass and raindrops with live-action of gushing rivers shot on a Red camera. The picture below shows Klemens checking out his work projecting on the floor in the office. The projection in the exhibition will be 30X2.6 metres. We learnt a lot in terms of creating content for a particular scale, context and technical specification. We are also triggering an LED light display to go with the video and John Lynch will blog about this, no doubt, in the next week or so.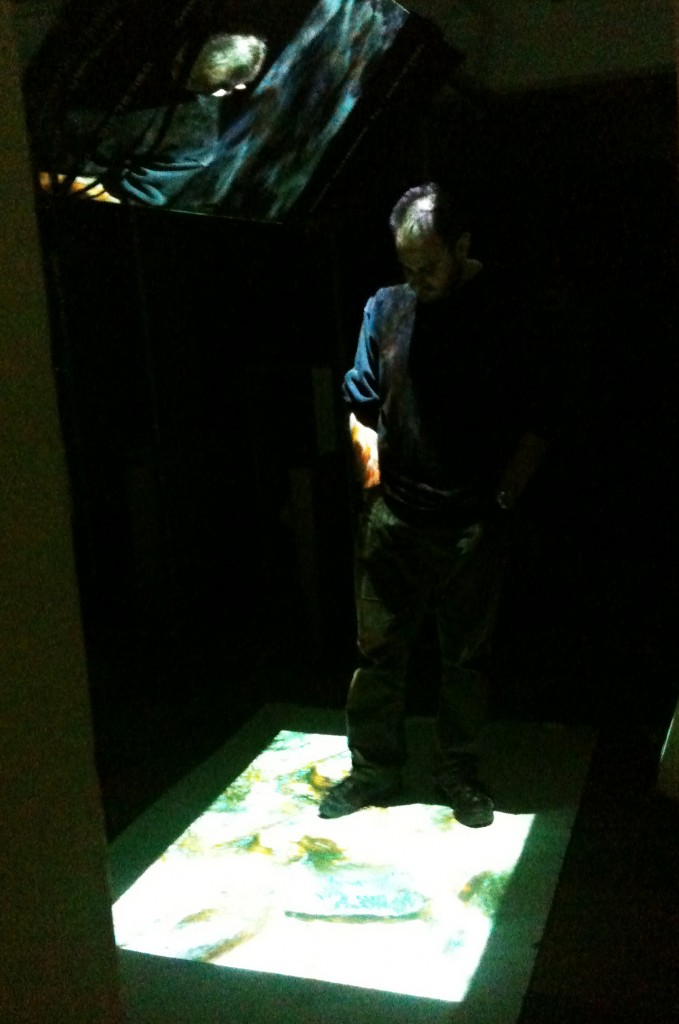 In the urban-vistas area we created a 3 projector wide video that gives a flavour of what an Irish city is all about. We mixed content from the
MyCity
exhibition, the Medieval Dublin project, and new timelapse shots of Cork. We also used the wooden CG model we have of Dublin and rendered it in high resolution 4:1 widescreen.
TrinityHaus
, a research group in Trinity, supplied us with information to create a vision of a sustainable Dublin in the future (thanks to Emma and her team). Similarly, the
Metropolis
project from the GV2 guys in Trinity college, gave us some great renders of their amazing CG environments of Trinity, complete with students hanging around and posing on campus.
Kila
(Bail O Dhia ar an obair) supplied the music and we hope the visuals show off our cities in their best light. The largest of the installations is a 6 projector corridor which gives the viewer a taste of everything they have seen so far in the show. As the content floats towards us it is mirrored on the floor to give depth and a feeling of infinity to the work. It is interspersed with full high resolution (4K) video, which was shot especially for the piece. We're thrilled to have gotten access to Croke Park to shoot Ireland beating Wales in rugby. Niall C, Danielle and Nico setup behind the goalposts with a Red camera shooting at full 4K. (Glenn McQuaid, esteemed horror director, FX artist and massive rugby fan, reckoned the guys needed a hand and came along to help out). We also got out and about in Newgrange and other locations. Again we had to shoot and design for a specific scale and context, so it keeps things interesting. The high resolution 8:1 video is immense and we cant wait to see it installed. We will get some pics up as soon as we can, once we get on site and start to install. Now we sit and wait for the volcano ash to pass, so we can get on a flight….
Design your footer here as a part of your layout. You can also download footer templates from the Visual Composer Hub.