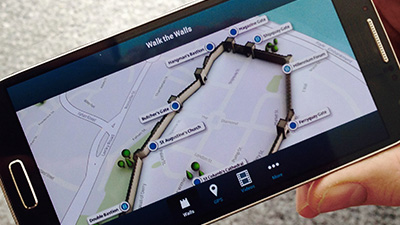 Walk the Walls
Walk the Walls: The Historic Walls of Derry-Londonderry is an app that provides an unparalleled view of the city as it was in the 17th century, combining rich historical and archaeological information with computer generated visualisations, a GPS-linked map, image galleries, and video content.
The highlight of the app is a series of six videos, which explore a computer-generated model of the historic city from a number of perspectives and themes. Each video is connected to a gate or tower and collectively they cover the topography & prehistory of the site where the city was built, the planning, construction and defence of the city, life in the city in the 17th Century and the famous siege of 1689. Walk the Walls links the historical city with its modern context, offering a GPS map view which identifies a user's position while on the Walls. Twelve clickable hotspots feature detailed information about the points of interest, including photographs, illustrations, historical maps, and archaeological information.
Engaging short text includes a "Watch Out For" section that points out specific features such as historic cannon and scratch marks from soldiers' blades. "Stories of the Siege" provides information about the 1689 Siege and places it within the physical context of the mapped space. Taken together, these historical and CG elements combine to invite a new and different view of the city and its history and are suitable for tourists as well as those interested in a deeper understanding of the Walled City. The app is free and available for download through the Apple store and Google Play.