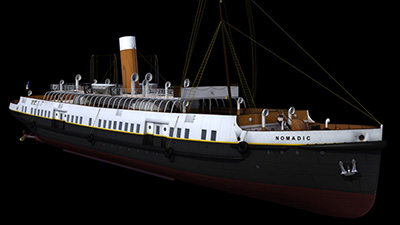 SS Nomadic
The SS Nomadic is the last remaining steamship from the White Star Line, and was launched in 1911 as tender to the Titanic. The ship is now permanently docked in the Titanic Quarter of Belfast, and a multimedia exhibition offers visitors a glimpse of the vessel's fascinating history.
Working with Tandem Design, we created a series of interactive and audiovisual projects to explore Nomadic's colourful past. Different storytelling methods were used for different segments of the ship's history. Two World War videos used archival footage and photographs, which we enhanced using 2.5D animations. The history after World War II is illustrated through an animation of the ship's structural and geographic changes with a timeline slider to explore the history and view a gallery of photos. The Nomadic's restoration is explored in a variety of formats, from documentary film clips to touch screens visitor interfaces and multi-screen projections.
A joystick computer game invites the player to try captaining the Nomadic themselves. Three character vignettes provide first-person narratives of life onboard the Nomadic. A barman, a captain, and a stoker give entertaining accounts of their lives and work in short videos scripted and filmed in house at Noho. The Nomadic exhibition has received glowing reviews from visitors and those involved with its preservation. We are happy to have played our part in creating this interactive and exciting experience of Belfast's cultural heritage.