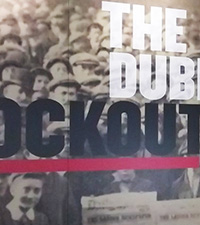 National Library: The Lockout
The National Library exhibit "The Dublin Lockout" examines the background, events and aftermath of the 1913 conflict. The exhibit combines original documents with multimedia and interactive presentations for an engaging and informative visitor experience.
We provided multimedia components for the physical exhibition, as well as designing a website to attract visitors and to serve as a permanent archive for this National Library of Ireland exhibit. Working with Tandem Design, we created touch screen displays; a video projection of the Lockout; an image slideshow; and five short interview videos with experts on the event, its context, and its long-term impacts. Our multimedia contributions add depth and interactivity to the exhibit as a whole, and offer a nuanced view of the National Library's archival documents in context. The website serves both to attract visitors to the exhibition and to act as a permanent resource and archive.
Noho designed the website to be mobile responsive and user-friendly, with a style and colour scheme carefully matched to the physical exhibit to aid continuity of visitor experience. By making this material available online, the website serves an important legacy function and ensures that the National Library's archive this historical event remains in the public eye.