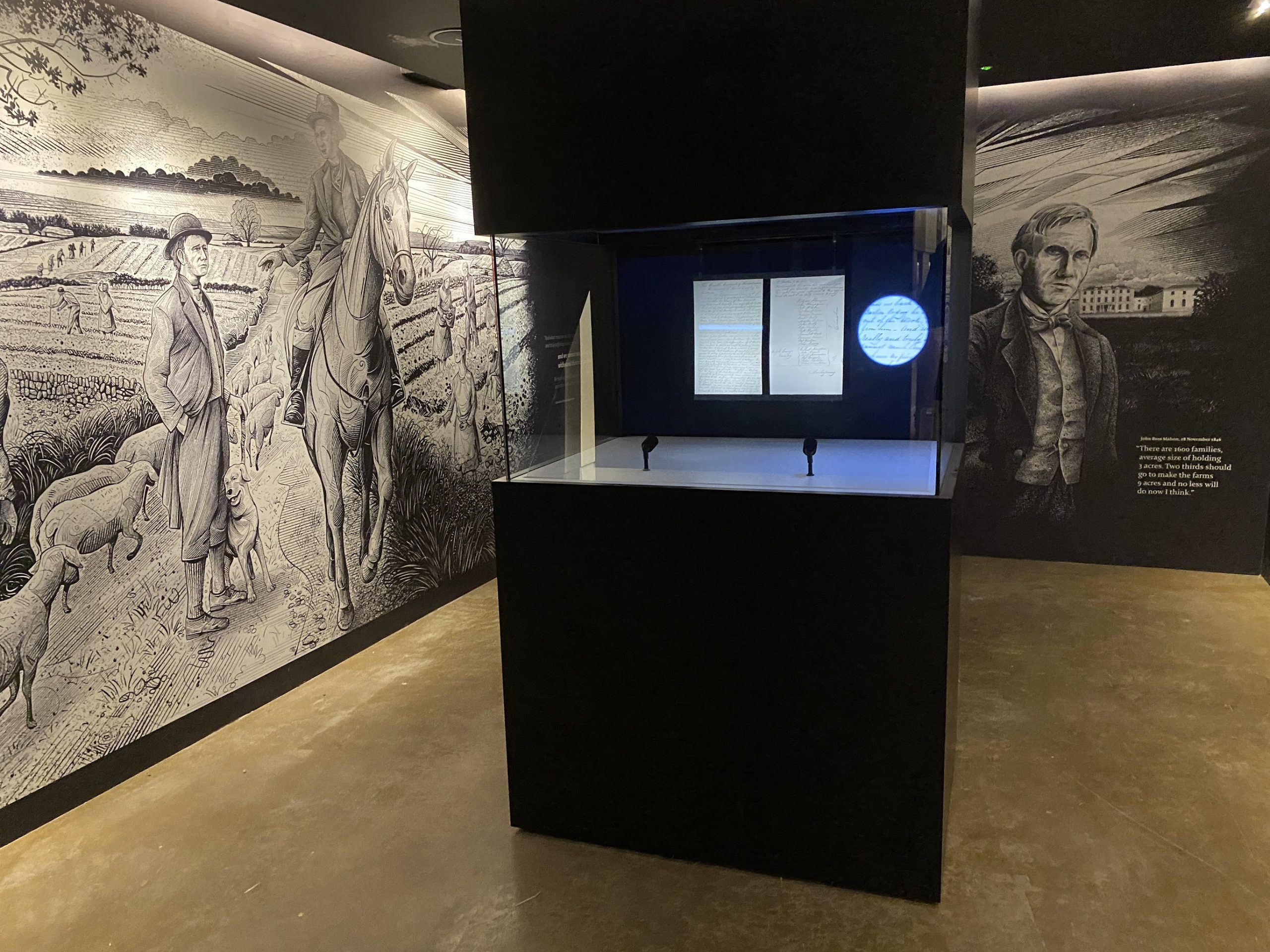 National Famine Museum – Strokestown
The National Famine Museum at Strokestown Park provides an immersive and emotional visitor experience for both domestic and international audiences. The exhibition space uses the rich and moving archival collections to powerfully illustrate the specific story of Strokestown, while relating this local harrowing history to the wider story of Ireland.
Audio-visual materials, including sound, projections and lighting displays add deeper engagement to the exhibition spaces and highlight some of the unique and incredibly precious artefacts telling this complex and contested story.
Noho provided audio visual and interactive content to make the  museum experience a multi-sensory learning journey for visitors. We provided different soundscapes for each zone from pure atmospheric soundscapes to scripted first-person accounts. Working closely with DJW we provided complex custom-made projections for a silhouette of Denis Mahon and a hologram-like projection on a manuscript, the Clonahee petition. We also created a complex array of character vignettes to tell the story of the shooting of Denis Mahon.
Our interactive team created an engaging data visualisation of data taken from UCC 's famine mapping project for touchscreen. An emotive motion-graphics animation in the final room with a powerful score created a fitting finale to the exhibition.
We handled all parts of the production, from script-writing, shooting, voice-recording, animation, motion graphics and sound design, through to working closely with DJW on the hardware side to deliver a compelling audio visual experience for the museum.
The Famine Museum was a project that involved a wide array of audio-visual solutions that needed to be delivered in a variety of technical and creative ways. The content had to be emotive and engaging but respectful and in keeping with the tone of the overall exhibition. From a technical point of view we needed to collaborate closely with DJW and also other lighting and fitout contractors to ensure the audio-visual experience was timed perfectly and as immersive and experience as possible. The Wake museum requires much of the same requirements.