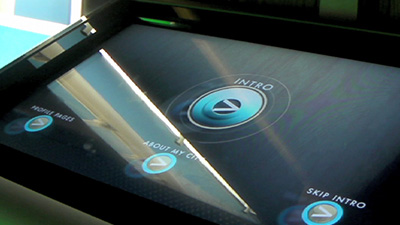 My City Exhibition
MyCity is a multimedia exhibition that describes the dynamic vision for the future development of Dublin City. The exhibit at the Wood Quay Venue in the heart of Dublin features six themes of urban life: people, places, culture, movement, enterprise and environment.
MyCity is a multimedia exhibition exploring a dynamic vision of Dublin's future. Our team oversaw the project from the design and installation of the exhibit to the creation of every frame of content in the nine interactive kiosks. In partnership with Silver City, we developed 42 short films, over two hours of stunning video with 3D graphics, and a range of interactive exhibition content.There are six interactive kiosks around the room; one devoted to each theme. At each kiosk are short films illustrating current projects and future city plans. Under the Profile Pages, visitors can read short summaries of Council initiatives. A "MyComment" section shares reactions from others and an option to share their voice through a recorded video message. The centre of the room features a custom-built 3D model of the city exploring future Dublin projects and developments. Overlooking the Hiberno-Norse wall below, a stunning historical timeline illustrates the growth of the city from the arrival of the Vikings through to Dublin in the 21st Century.
Running through the whole exhibition is an interactive river of light, representing the Liffey as the lifeblood of the city. This was created using Sensacell technology and was the first installation of its kind in Ireland.