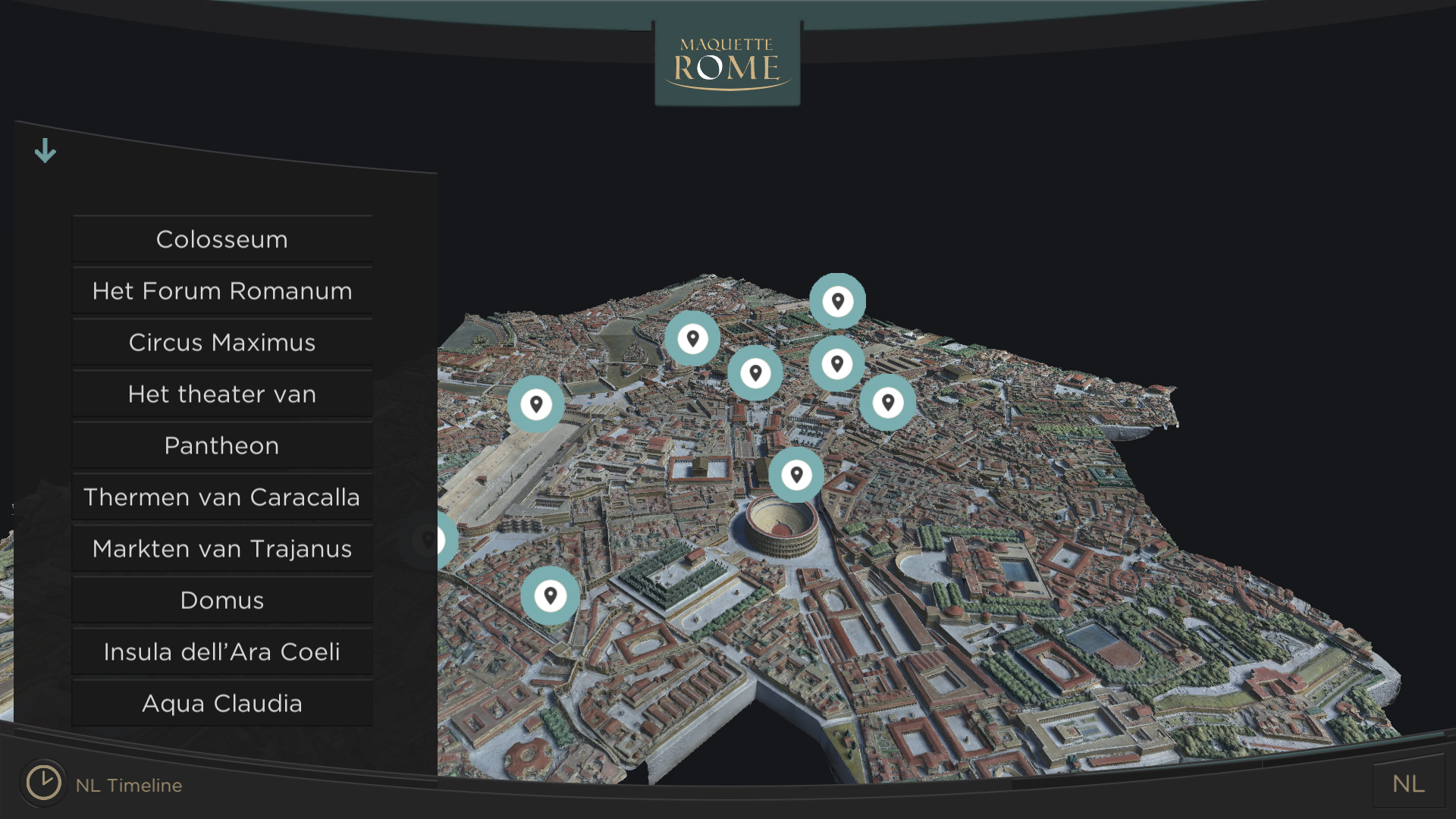 Maquette Rome
The scale Model of Rome, one of the Art & History Museum masterpieces in the Brussels Cinquantenaire Park, was reopened to the public on 6 February 2020. The setting for the model has been completely revised: the model has been restored and cleaned, and the entire area has been opened up, re-configured and new technology (video, touchscreen, 3D-animation and augmented reality) now helps visitors discover the eternal city in an interactive way.
The Art & History Museum model shows Rome at the end of the 4th century AD, at the height of its splendour. Every year, it is admired by tens of thousands of visitors from all over the world. It was made by the French architect Paul Bigot, who dedicated most of his life to creating scale models of the capital of the Roman empire, producing four in all. Today, only his working model (at the University of Caen) and the model in Brussels remain. The version at the Art & History Museum is the only one in colour. A true masterpiece and a must-see for every school visit, the model measures 11 x 4 metres on a scale of 1/400.
In 2019, the model was thoroughly cleaned and restored where necessary. The entire model was then digitised using photogrammetry. The most significant change has been the upgrading of the staging of the model. By integrating modern technology through videos, 3D animations, virtual reality and augmented reality, the Museum hopes to surprise its visitors with a thrilling interactive experience thanks to the collaboration with Noho.
Noho worked with a scanned 3D model of the maquette and added detailed real-time models of different sites within Rome. The touchscreen application and an AR iPad app explore these sites in detail. We have also created 360 videos from the data for use in a VR app. We created a high-resolution introduction film using visualisations of the maquette with sunlight and vast landscapes around the main model. Mixing the digital maquette with the detailed digital models enables us to explore the model from expansive bird-eye views to street-level shots. The film brings us through a day in the life of ancient Rome and compares it to the modern city and modern society (things haven't changed so much really!).
We also scripted and shot four character vignettes of a Roman senator, gladiatrix, merchant and architect from across the Roman empire. These were performed in Latin with English, Flemish and French subtitles. The four stories from each character interweave to give a full picture of roman life in the 4th century. 
https://www.artandhistory.museum/exhibitions/la-maquette-de-rome