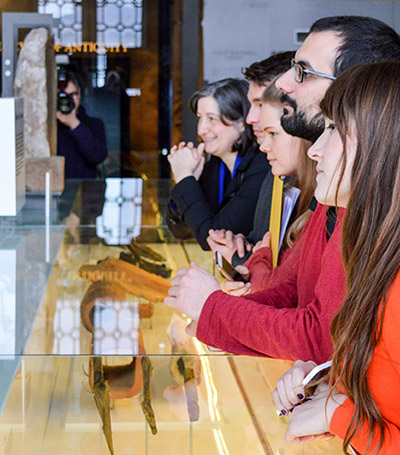 Emotive
Noho are important partners in Emotive, an EU-funded heritage project that aims to use emotional storytelling to dramatically change how we experience heritage sites.
For heritage professionals, the Emotive application will provide a powerful storytelling engine and a set of rich digital media assets that can be used to create detailed characters and narratives featuring archaeological sites or collections of artefacts. For visitors, Emotive will offer dramatic, emotionally engaging stories that can be experienced while at a cultural site or remotely. Wherever visitors are, they can follow characters, look for clues and explore environments alone or with family and friends.
Storytelling applies to nearly everything we do. Whether it is to inform, persuade, entertain, motivate or inspire, we all tell stories every day of our lives. Yet despite their power, not all stories are effective in holding their audience's attention or communicating the messages they set out to convey.
In heritage locations, narrative tends to be used narrowly, as a method to communicate the findings and research conducted by the domain experts of a cultural site or collection. It's typically a single-user experience and can often lack emotional resonance or impact.
Emotive seeks to change that.
Emotive works from the premise that cultural sites are, in fact, highly emotional places. That regardless of age, location or state of preservation, they are seedbeds not just of knowledge, but of emotional resonance and human connection.
We believe that drama-based narratives containing careful reference to a site's cultural content have the power to transform heritage and museum visitor experiences, encouraging repeat visits, facilitating direct and ongoing interaction and deepening knowledge transfer. From 2016-2019, the Emotive consortium will research, design, develop and evaluate methods and tools that can support the cultural and creative industries in creating narratives which draw on this power of 'emotive storytelling'.
The output of this process will be a prototype software platform for heritage professionals and an application for visitors that produces interactive, personalized, emotionally resonant digital stories for museums and cultural sites. The outcome will put tools in the hands of professionals to create engaging, memorable stories, and enable the public to enjoy and share these stories, from anywhere. It will engage audiences in a new way, putting emotional stories at the heart of museums and heritage sites.